A fitting tribute
Thursday 1 August saw the blessing by the Most Reverend Mark Coleridge, Archbishop of Brisbane of the much anticipated statue of Venerable Catherine on the McAuley at Banyo, Brisbane Campus of the Australian Catholic University.
Placed in a central position in the community courtyard of the campus and just behind the chapel, the statue is designed to be piece that invites engagement with the viewer. It depicts two figures – Catherine and a young girl - situated at eye level on a 1.2 metre plinth.
The sculptor, well known Australian figurative artist, Mr Peter Wegner states,
In this sculpture of Sister Catherine, I am hoping to reflect her kindness, empathy and compassion towards the poor and disadvantaged, whilst capturing her warmth, solidity and resolve to create change.
I have placed Sister Catherine in a position that depicts her as a humble and merciful protector. She draws the child closer in a comforting and gentle embrace and instils a sense of trust which is exchanged and shared. The two figures are united in the bond that carries a sense of hope for the destitute and the needy, while depicting Sister Catherine as a protector and social reformer.
The Brisbane campus of the university traces its origins to the Catherine McAuley Teachers College established by the Brisbane Congregation in 1955. The site, as the Archbishop remarked, has a much longer association, dating back to the very early days of the Brisbane foundation, with the acquisition in 1863 of the land on which was established both the university and the then St Vincent's Orphanage, Nudgee nearby (1867).
The sculpture is a fitting tribute to Catherine as patron of the McAuley at Banyo, Brisbane Campus of the Australian Catholic University.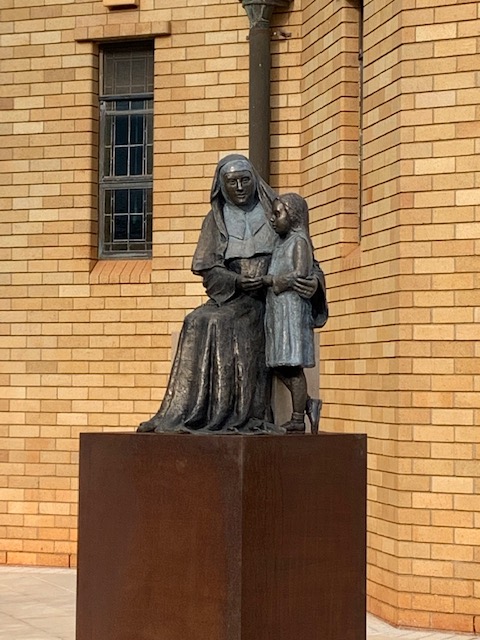 Sister Catherine - by Peter Wegner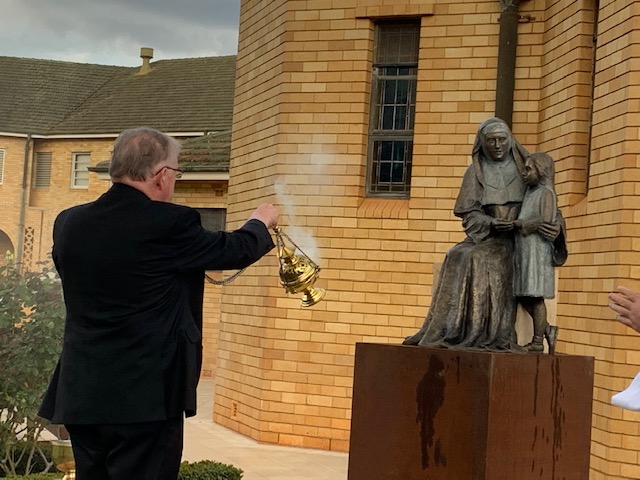 Blessing by most Reverend Mark Coleridge, Archbishop of Brisbane